Ashampoo WinOptimizer 14.00.05 – 50% OFF
Ashampoo WinOptimizer 14 is a powerful system optimization software. It automatically frees up disk space, fixes errors and tunes your machine for best performance. Also has Privacy protection and Windows customization options.
Aside from 3 cleaner modules that clean your Windows system effectively, over 30 tools cover everything from system maintenance, tweaking, analysis and performance tuning to file processing.
Ashampoo WinOptimizer 14 comes with AutoClean to delete web browsing traces, program leftovers and temporary files automatically as soon as their host applications are closed.
The updated cleaning algorithms now support all the latest browsers (including MS Edge) and will clean your machine from no longer needed Java and Flash objects as well as many other file types.
The new Win10 Privacy Control provides added privacy protection on Windows 10 systems by individually preventing services and functions from sending out usage data. Modules such as IconSaver, Internet Tuner, System Information and various others have also been updated for better usability and performance.
Many features will provide a massive speed boost to your system. Remove unwanted programs from your Windows Autostart, optimize the Windows Registry and disable unnecessary processes. All with just a few clicks.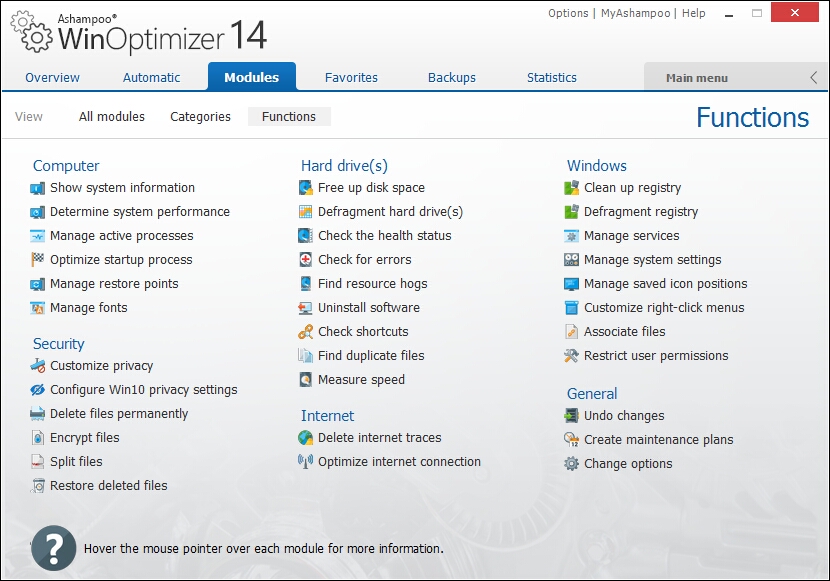 Many Windows settings are hidden or hard to reach without additional tools. Ashampoo WinOptimizer provides instant access so your system can look and feel in a way most suitable to you. Whether it's visual modifications with the help of the Tweaking module, added security through AntiSpy or a perfectly optimized Internet connection, anything's possible! And if you disagree with a modification - simply reverse it through the built-in Backup feature.
Highlights of Ashampoo WinOptimizer 14:
Automatic deletion of web browsing traces and temporary files
Optimal privacy settings for Windows 10
Reliable system failure warnings
Fix Windows errors with a single click
New look for maximum clarity
System analysis with support for the latest hardware
Newly developed Internet cleaner with multi-user support
Updated search algorithms for all cleaner modules
Full performance through effective system tuning
Languages: Belorussian, British English, Bulgarian, Catalan, Chinese (simplified), Chinese (traditional), Czech, Danish, Dutch, English, Finnish, French, German, Greek, Hungarian, Italian, Norwegian, Norwegian Nynorsk, Polish, Portuguese, Portuguese (Brazilian), Russian, Serbian, Serbian, Slovakian, Slovenian, Spanish, Spanish (Argentina), Swedish, Turkish
Supported OS: Windows Vista, Windows 7, Windows 8, Windows 8.1, Windows 10.
Homepage - https://www.ashampoo.com
Size: 27.2 MB