XnView 2.50.1 – Extended, Standard, Minimal
XnView is an efficient multimedia viewer, browser and converter. It is really simple to use and lets you read about 500 formats. They are Multipage and animated still formats APNG, TIFF, GIF, ICO, etc..). Some formats may require Plug-ins.
XnView also provides a convenient Screen Capture module and Windows TWAIN and WIA interface to capture images. With XnView you can browse, organize, and view your images in numerous ways: Thumbnail View, FullScreen View, FilmStrip View, SlideShow with FX, Images Compare, etc…
This application allows you to process your images with an arsenal of editing tools. It can resize, rotate, crop, bdjust brightness and contrast, modify colors depth and palette, apply filters and Effects.
In addition to exporting to more than 70 formats, XnView lets you create: SlideShows, Web Pages, Contact Sheets, Video Thumbnails Gallery, File Listings, Strip of Images.
XnView and NConvert are provided as Freeware for private non-commercial, educational use and non-profit organization. Commercial use is not authorized without agreement or ordering.
XnView Features:
Import about 500 graphic file formats
Export about 70 graphic file formats
Multipage TIFF, Animated GIF, Animated ICO support
IPTC, EXIF
Resize
Copy, Cut, Crop
Adjust brigthness, contrast…
Modify number of colors
Apply filters (blur, average, emboss, …)
Apply effects (lens, wave, …)
Fullscreen mode
Slide show
Picture browser
Batch convert
Thumbnail create
Screen capture
Contact Sheet create
Multi-page file create (TIFF, DCX, LDF)
TWAIN support (Windows only)
Print support (Windows only)
Drag and Drop support (Windows only)
44 languages support (Windows only)
And many many other things…
Changes in XnView 2.50.1 (2021-09-07):
Browser size not restored
Dialog always on Screen #1
Context icon
NConvert: multiple -canvas & bgcolor
NConvert: -jpegtrans
NConvert: -canvas longest 220mm
NConvert: jpegtrans exif & keepfiledate
Changes in XnView 2.50 (2021-04-29):
APNG crash
JPEGXR RGB10
CR2 orientation problem
Ghostscript 9.54
Recoil
GEM vulnerability – Thanks to Michael Heinzl
NConvert: -use_org_quality problem
jpegtrans not written for NConvert
NConvert: -text_font name percent
NConvert: -canvas shortest/longest
Changes in XnView 2.49.5 (2021-02-02):
Ghostscript detection
TIFF
HEIF plugin
Old versions of ghostscript not recognized
NConvert: -use_org_quality
NConvert: multiple text lines
Changes in XnView 2.49.4 (2020-10-15):
Ghostscript 9.53.x
GPS & file date
TIFF Security vulnerability (Thanks to Michael Heinzl)
NConvert: -levels2
NConvert: -resize supports cm/mm/inches
NConvert: -autodeskew fixed
NConvert: -noholder to disable %$ chars
Changes in XnView 2.49.3 (2020-05-18):
Convert 16 to 256 colors
Disable ESC to close tabs
EscToCloseView=0
Select file from search results & switching mode
Title empty when recurse
Resize
Slideshow: Order of files
Fortis Mag fix
NConvert: – wmsize watermark percent size
NConvert: canvas size in inches/cm/mm
NConvert: replace_color
NConvert: – temperature added
Changes in XnView 2.49.2 (2019-12-12):
Problem with Ghostscript 9.50
PDF font problem
CR3
.sld must use 'Recurse' setting
 GIF loop
PAM CMYK
Changes in XnView 2.49.1 (2019-09-10):
Changes in XnView 2.49 (2019-09-04):
SQLite 3.29.0
NConvert: greater_than/less_than condition
PSD: Error when writing metadata
Export – Problem with RGBA
Capture
Left/Right F11 to open fullscreen on Left/Right monitor
Create multi file & folder with '.'
# to comment line in .sld file
Multipage create: Check if output filename exists
Slideshow crash when using animated GIF
XIM format import added
Change timestamp must not use 12h format
GIF not played correctly in Slideshow
CVE
NConvert: -unsharp
NConvert: -exposure
NConvert: -colorize h l s
NConvert: Remove EXIF orientation -exif_rotation
[Rename]/TemplateStart, position of number in template
CVE-2019-12151
ShellEx: 'Convert…' & input fields
Homepage – https://www.xnview.com/en/xnview/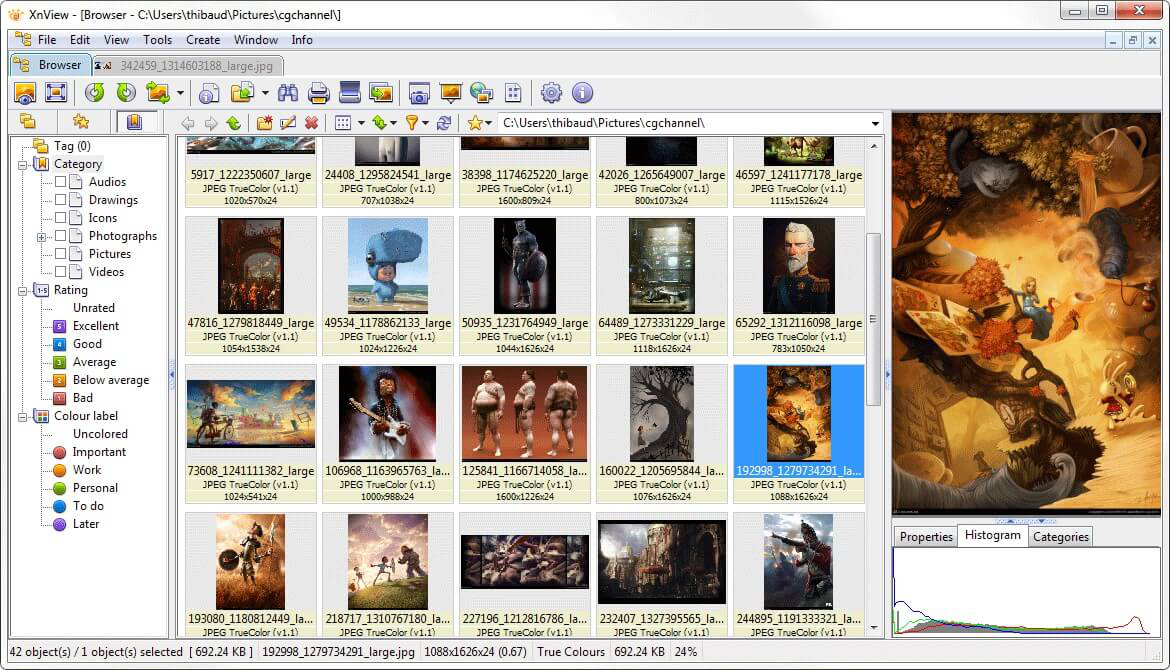 Size: 20.3 MB
(Plugins, Addons and Extras: NConvert, ShellEx, Media Detector)