XnConvert 1.82 – Batch Image Converter
XnConvert is a cross-platform XnView batch image converter and resizer with a powerful and easy to use experience. The application supports a wide range of input and output formats of graphic files, photos and images.
All common picture and graphics formats (i.e. JPG, PNG, TIFF, GIF, Camera RAW, JPEG2000, WebP, OpenEXR) as well as over 500 other image formats are supported.
This freeware application provides you with numerous image processing tools that can come in handy. Also available within the batch operations include rotating, adding of watermarks, adding of text along with many image-adjustment features such as brightness, shadows and more.
XnConvert has been created by XnView developers. It is free for Windows, Mac, and Linux. Both 32-bit and 64-bit editions are available.
XnConvert Features:
Batch adding of files and folders
Support for drag and drop of files
Batch rotating, cropping, resizing and more
Adding of photo masks
Preserving or removing image metadata in conversions
Multipage image file support (i.e animated GIF, APNG, TIFF)
Command line integration via NConvert
Filters – such as 'Blur', 'Gaussian Blur', 'Emboss', "Sharpen' and much more
Effects – such as 'Old camera' and much more
Languages supported: English, Armenian, Brazilian Portuguese, Czesh, Dutch, French, Hungarian, Italian, Japanese, Norwegian, Polish, Portuguese, Russian, Slovak, Simplified chinese, Spanish, Swedish, Traditional Chinese
Changes in XnConvert 1.82:
[Bug] Problem with Ghostscript 9.50
[New] Offset tool
[New] Unsharp Mask
[New] Webp: Presets
[New] Use Windows HEIC WIC decoder/encoder
[New] JPEG-XR export does not work
[New] Batch convert: Reorder items
[New] Automatic crop: edges selection
[New] DDS Bcn compression
[New] Libjpeg 2.0.3
[New] XIM format – read support
[Bug] Batch Convert: Output path
[Bug] webP & metadata settings
[Bug] Batch Convert: ICC not kept for PNG
[Bug] PSD fix alpha channel setting
[Bug] Batch convert: Use CPU Core's – limited to last used setting
[Bug] WebP: target file size not used
[Bug] Batch Convert: Resize – Longest/shortest & percent
[Bug] TIFF
[Bug] Batch convert + "Use CPU Cores" very slow to start with 30,000 images
[New] Batch convert: Hot folders without auto processing
[Bug] Batch convert: Preview not updated
Changes in XnConvert 1.80:
[New] Batch Processing running on multiple cores
[New] WEBP EXIF/XMP support
[New] OpenJPEG updated
[New] WEBP updated
[Bug] Batch Convert: 'Keep structure' & 'Keep parent' can't convert on same root partition
[Bug] Batch convert: Delete icon not enabled after saving script
[Bug] Batch convert: Small/Large thumbnails setting not restored
[Bug] XnConvert: 'Delete original' setting not saved
[Bug] ICNS with JPEG2000 icon
[Bug] XCF 2.10
[Bug] Batch Convert Drag&Drop does not work when listview is enabled
[Bug] XCF dead lock
[Bug] Batch convert: Clear input file don't work anymore
[Bug] Batch Convert: 'Source folder' not selected after load .xbs
Homepage – https://www.xnview.com/en/xnconvert/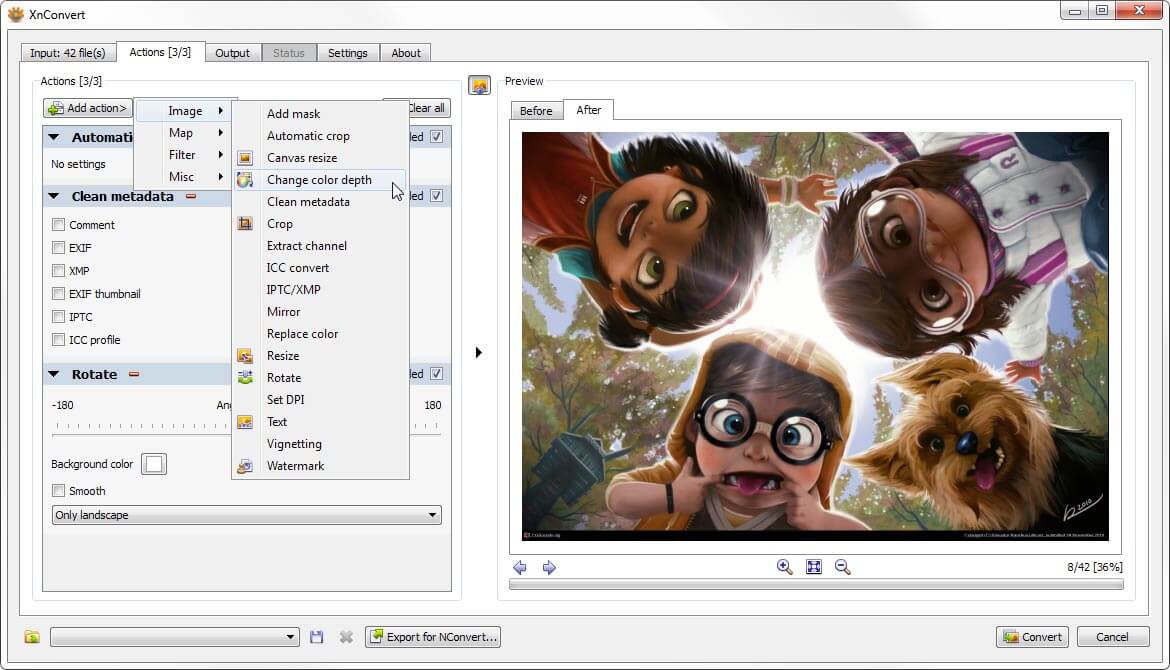 XnConvert is provided as FREEWARE (NO Adware, NO Spyware) for private or educational use (including non-profit organizations).
If you enjoy using XnView MP, feel free to help the developer with a small donation.