DVDFab Downloader 1.0.2.0 – 25% OFF
DVDFab Downloader is a handy music, video downloader and conversion software. It allows music and video fans download tons of online music from popular 200+ audio and videos sites. Also this app can convert online videos to MP3 tracks saved on computer HDDs, with just one click or two.
This means, after transferring the converted MP3 audio files to your device, be it a smart phone, classic iPod music player, or even a smart watch, you can take your favorite music everywhere. No longer need to stream.
25% OFF Coupon Code until November 30, 2019: BFD25
What's more, if you don't need the paid features, it can be a free YouTube to MP3 converter for you, forever. Simply paste the URLs of your favorite YouTube videos into this DVDFab YouTube to MP3 converter.
Yoy will able to download or convert online videos to MP3 files (of 320/ 256/ 192/ 128/ 96 kbps) that are compatible on extremely portable devices, such as an iPod Shuffle, an iPod Nano, even an Apple Watch, or an Android Watch.
So you can enjoy your favorite music, songs, concerts and albums anytime while you are doing the laundry, jogging, cycling, or even swimming. What's more, this DVDFab utility is totally free for you to download single audios/videos one by one.
DVDFab Downloader Features:
Download and Convert an Entire Playlist at One Go
To one or just a couple of audios/videos, to download and convert won't cost you too much of time. However, if it's an entire playlist which contains dozens of songs, to download them one by one won't be a pleasant experience at all. But don't worry! If it's a playlist, the Pro version of this music downloader software will give you the extra option to download and convert all the audios/videos under that playlist at one go. In this way, you can get all the songs in a playlist with no sweat.
Download the Metadata and Apply to the Output MP3s
When downloading music and videos, the metadata information, including the cover art, artist, title and others, will also be downloaded. What's more, after being converted to MP3 files, the metadata information can be retained. This is to say, when playing back the MP3 files on compatible devices, all the information will be displayed.
Auto-Update New Music from Saved Playlists
The trump card of this music downloader and converter software allows you to subscribe to your favorite YouTube Channels, by doing that way, when next time you launch it up, it will automatically check if there is newly updated music on the playlists Channels you've saved. Once new music uploads are found, it will then download and convert them to MP3s for you, also automatically.
Turbo-Speed to Accelerate the Download and Conversion
The download of one video may cost you only a couple of minutes. But imagine an entire playlist that contains dozens of songs/videos, or if you have several playlists to be downloaded, that would require quite a while. This is when and where the Turbo-Speed Download feature can help a lot. Once theTurbo-Speed is turned on, the download and conversion process can be 10X faster. This means, to download and convert an entire playlist won't keep you waiting too long.
Multi-Task to Download 5 Audios or Videos Simultaneously
The free version of this music software can process one download task at a time. This means, even if you add multiple download tasks into the queue, only one task can be processed at a time. Others will wait in the queue. The Multi-Task Download feature can process several download tasks simultaneously, with an upper limit of 5 at most. It is available only to the Pro version.
Changes in DVDFab Downloader 1.0.2.0 (2019-11-15):
New: Improved the homepage function layouts.
New: Improved the overall user experience.
New: Improved the success rate of video analysis.
Changes in DVDFab Downloader 1.0.1.0 (2019-11-07):
New: Improved the user experience on downloading videos.
Changes in DVDFab Downloader 1.0.0.9 (2019-10-11):
New: Improved the overall user experience.
Fix: Some minor bugs.
Changes in DVDFab Downloader 1.0.0.8 (2019-09-20):
New: Improved the experience when downloading music and videos from YouTube.
New: Improved the video playback experience.
Homepage – https://www.dvdfab.cn
Supported Operating Systems: Windows 7, 8, 8.1, 10 (32-bit, 64-bit).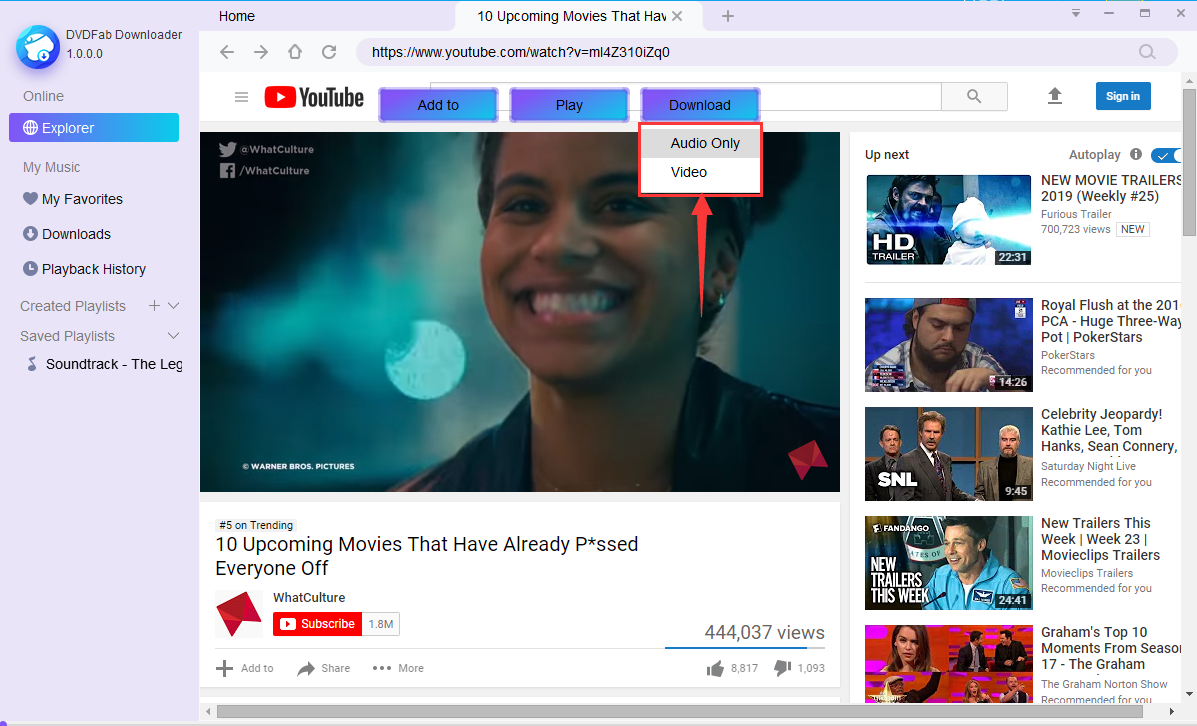 25% OFF Coupon Code until November 30, 2019: BFD25